Industry Update - Creative
Tax Relief
18 August 2020
HMRC's released the latest official figures around Creative Tax Reliefs in the UK. These are designed to incentivise and reward those companies producing qualifying and progressive work in the creative industry and consist of eight reliefs covering work in Film, High-end Television, Animation, Gaming, and Children's Television, as well as Theaters, Orchestras, Museums and Galleries. Creative businesses who are producing visionary or culturally relevant work are well placed to take advantage of these tax relief schemes.
The numbers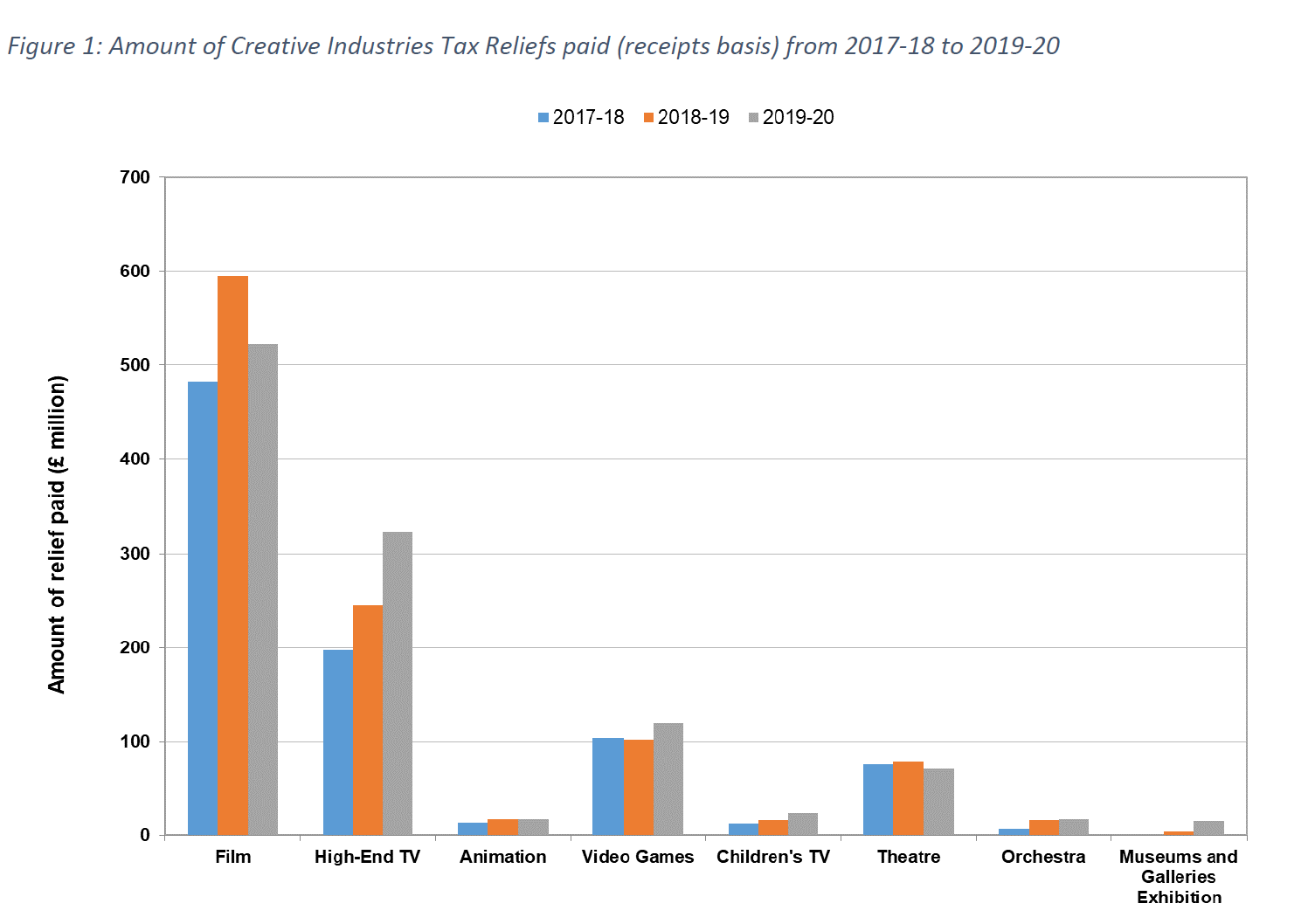 In 2019-20, a total of £1.11 billion in tax relief was paid out across all the Creative Industries which is a small increase from the £1.08 billion claimed in 2018-19. Alarmingly, however, typically 80% of companies that could claim these valuable reliefs, still aren't doing so.
For business owners working in these areas, it's worth noting that for the likes of Film, Television, Animation and Video Games, each production may allow for several claims during the process, whilst one claim can also be made to cover several productions.
Creative businesses operating in these sectors must consider a number of qualifying criteria in order to be eligible for Creative Tax Reliefs. At the heart of these criteria is the notion of wishing to promote the sustainable production of culturally British content.
Where Film and High-end Television Tax Reliefs are well established, increasingly there's further opportunities for companies producing animated content or video games. Clearly, Theatre Tax Relief could also provide welcome income to the performing arts sector given the significant downturn caused by recent global events.
To access this full GOV.UK report industry report, then click here.
NEED HELP?
Our Creative Sector Advisory team have and continue to work with a number of clients to identify where their innovation can be rewarded through either R&D tax credits or Creative Tax Reliefs. Schemes such as these can make a huge difference to businesses and provide a much needed cash injection back into the business.
Interested?
If you're a creative business owner who's willing to explore these options,
then speak to our Fortus creative team today on 020 8138 5560.
R&D hasn't been Furloughed, so why not get the much needed Vaccine for your business now?

HMRC have further updated their guidance regarding the changes to the R&D tax credit regime for SMEs from 1 April 2021.